A lot of people who own cats as their pets are mostly concerned about important stuff such as feeding, timely care, and an appropriate place for excretion. For such concern, there is no better solution compared to a quality cat litter box.
Before moving on to the best cat litter box reviews you must be thinking what are these? Well, a cat litter box is a pan-shaped box required for collecting cat urine and feces. It's better to have these from the beginning and train your pet cat as soon as possible.
So if you're looking out for ideal cat litter boxes, here we are providing you with in-depth reviews of ten of the handiest litter boxes for cats for the year 2021.
Choosing the Best Litter Boxes for Cats in 2021
1. Good Pet Stuff Company Hidden Litter Box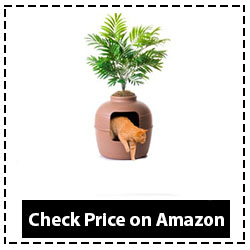 This is the biggest one you can have for cat litter boxes. To humans, this would appear similar to a planter while turning it around the wall corner. This works well for your cats as they'll easily crawl inside the planter base and then use the litter box without invasion of their privacy. Also, the base can get lined up with bedding for usage as a pet bed.
With the filter and vented design, you get control over odor and dust. The litter box is available completely in addition to moss, plant, and filter. Polypropylene construction provides the box with utmost durability.
The pot has a large capacity making it ideal for large cats as well and it can also work for households with various cat pets. The large litter box appears similar to a clay pot. Additionally, with the plant, the litter box also works well as a home décor object and can be placed anywhere in the room.
Some Key Features:
Plants and parts can be nested between the top and bottom sections of the litter box.
The Cat box has a measurement of 42 inches in height including the plant. Dimensions without plant are 20" wide x 19″ height.
The litter box is available with a limited warranty period of 1 year.
Pros
Ideal for large as well as small cats.
Durable and sturdy.
Ideal for ensuring privacy.
Cons
Requires a little DIY
Artificial plants not a good idea for curious cats.
Summary
With the Good Pet Stuff Hidden Litter Box, your cat is ensured of utmost privacy and no one would know anything. Upon turning towards the wall, you'll just see a planter. Your pets simply have to climb the planter and do their stuff and move back out. Ideal for large and small pet cats as well.
---
2. Catit Hooded Cat Litter Pan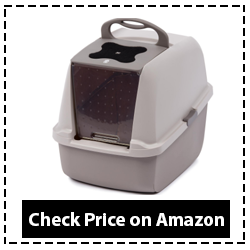 A lot of reviews have appraised the product's value in addition to its budget-friendliness. Also, pet owners reported that the large box size easily contained their cat messes meaning that there is no tracking for litter.
Due to the large size of the litter box, measuring a total of 22.4 x 18.3 x 17 inches, this cat littering box is an ideal deal for households that contain multiple cats as pets. This is a great choice for cats with larger than usual sizes or cats that mostly appreciate additional spaces at the time of doing business.
Despite being quite massive in their size, the litter box remains quite simple in refreshing and cleaning in addition to the new litter. The hood can lift easily for simple access in addition to an in-built bag anchor that is helpful for keeping litter bags open. Also with the availability of traps with a carbon filter, you won't be able to smell odors from the litter box.
The litter box comes with an attached door or hood that is removable for fitting accordingly with preferences.
Some Key Features:
Being a hooded cat pan your cat gets utmost privacy.
Simple access for entering and exiting for your pet cat.
In-built anchor for keeping the bag open while freeing a hand to scoop out.
Pros
Has a free Magic Blue Litter Box Sample.
It comes with a push aside flap for comfort.
Large box ideal for cats of all sizes.
Cons
Flap can't be challenging to open.
Summary
So you don't want your cat's privacy disrupted at any time, then you must try Catit Jumbo Hooded Pan for limiting all the litter within the pan. You won't have to look out a lot after buying this pan-shaped litter box as the cleaning process isn't much hassle. Overall this is a good buy for your needs.
---
3. PetSafe ScoopFree Ultra Automatic Self Cleaning Hooded Litter Box for Cat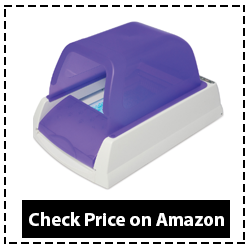 How about having completely automatic & self-cleaning litter boxes for your pet cats without climbing higher on the price tag! The Self-Cleaning ScoopFree Litter Box here would be the best bet to have. Instead of scooping the whole waste every day, the litter box which can be easily cleaned by self simply does everything for your comfort. Here all you need t do is just keep changing and disposing of trays every time in a few weeks.
Firstly, load a disposable cat littering tray with a crystal litter one and then plug it. The sensors can easily detect when the cat is able to use the box and this then rakes away the entire waste just after 20 minutes.
At this time, the crystals are able to absorb all the moisture with odors and this would then dehydrate all the solid waste. Later on, after the automatic rake begins to sweep all litter, the waste gets transferred for covering all traps and gets locked away.
Some Key Features:
5 times higher odor removal with crystal litter compared to clumping litter.
Available with health counter for tracking box usage in a day.
Disposable trays are available with plastic lining for protection against leakage.
All trays are available with lids and can be quickly disposed of.
Pros
Ideal for removing odors from the house.
Ensures cleaning with crystals and tray.
The automatic operation makes it a comfortable choice for users.
Cons
Design can still be improved
Summary
Cat Litter boxes with automatic disposable trays are great for avoiding all the messy cleaning work as self-cleaning features keep you worry-free all the time. Self-refilling tray boxes help your cat as well and pets of all sizes love littering in cleanliness. So you won't have to worry about gross indoors.
---
4. Petsfit Espresso Double-Decker Pet House Litter Box Enclosure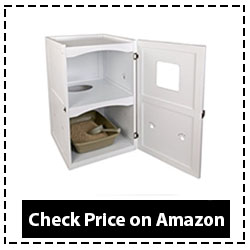 With this litter box with a double-decker enclosure, you can also get a multi-functional pet house. It has two stores mainly for use of one or more than one cat, or this can be used in the topmost section for the litter supplies. This features the door, in addition, to latch for the prevention of cats from escape. This is also available in white and espresso.
According to various reviews, the pet enclosure is among the largest available in the market and the cats love it and this would be quite great for littering boxes out of way and it would significantly help in reducing litter and odors from the entire floor.
However, a little control and management are necessary. The best cat litter box fits well for larger cats as well so pet cat owners don't need to think for the second time before getting it for their little as well as big cats.
Some Key Features:
Some Double-decker cat litter enclosures in addition to a pet house.
This can feature two different stories that are ideal for single or double cats.
This can feature the door to latch for the prevention of cats from getting escaped.
It is also available in white and espresso color.
Pros
Has multifunctional design.
Ideal for keeping dogs out of reach from the litter box.
Pets don't escape with latch holding your doors.
Cons
It can be quite large for some users.
Summary
All pet owners care for their pets but if there are fewer unnecessary things to do like cleaning cat litters around then it would be good for sure. With handy features such as automatic waste removal, odor control, simple cleanup, protection against leakage, etc. you get a total value for your pets and house with the Petsfit Espresso Double-Decker Litter Box.
---
5. Designer Catbox Litter Box Enclosure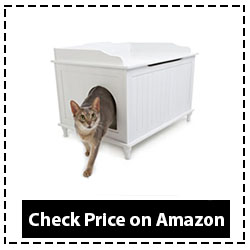 If your pet family also has a dog along with your cat and your dog keeps peeking in the litter box of your cat, you can surely avoid this problem with the Designer Catbox Litter Box Enclosure. The design is ideal for keeping curious dogs away from litter pan after providing space and comfort for the cat. For the price, you also get a stylish furniture piece in addition to staggered entrances and interior panels for the prevention of litter that ends on the floor. With the ideal placement for the outer hole on the right or left side, the litter box completely gets hidden from the guests. The parts can easily get assembled, but you would require Philip's head-type screwdriver.
Unlike other conventional litter boxes for cats, the enclosure offers a lot of space for the cats and the litter accessories functioning with ventilation systems wipe out all foul odors.
Some Key Features:
Litter Box Designer Catbox Enclosure becomes lead-free and non-toxic paint and glossy finish to become long-lasting.
The litter box is available with a hydraulic hinge for holding the lid up.
Simple and easy cleaning.
Ideal for high-backed and standard litter pans.
It comes with lead-free non-toxic paint.
Can keep dogs away from the litter.
Pros
Staggered entrance and interior panel for avoiding litter in floor.
Finishing done with wood grain in addition to wood veneers.
Available with safety hinges.
Summary
Whether you're concerned about hygiene issues or wish to have high-quality materials for a better-looking catbox, the Designer Catbox is the thing to have. This is ideal for ensuring that all other accessories such as litter scoop, pan, etc. are hidden from guests and family members. The catbox holds onto its position and ensures that no peskiness happens around.
---
6. Petmate Booda Dome Clean Step Cat Litter Box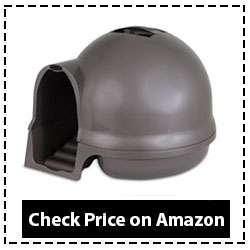 The cat litter box available with a dome lid is ideal for enclosing cats on different sites and this provides them with utmost privacy. You simply keep your floors litter-free. The clean step grooved entrance is gently able to wipe out cat paws upon exiting.
The dome has a charcoal filter that is essential for absorbing odors and it can get placed in different house rooms. This is ideal for large cat breeds and multi-cat homes 21" x 21". You swiftly need to clean up after the cat and dog while you walk varieties with different products for waste management such as pans, rakes, waste bags, littler boxes, etc.
Pros
The dome-shaped box encloses your cat from all sides.
With a clean step entrance, the paws easily get wiped upon exiting.
The charcoal filter helps in absorbing foul odors making it suitable for all house rooms.
Cons
Little bit darker inside.
Cleaning can take little time.
Summary
The dome-shaped box works well for all cat sizes but in this case, it's better to make sure that you've trained your cats for avoiding messiness.
The Petmate Booda Dome Clean Step Cat Litter Box features a simple to lift handle with a non-stick rounded pan and cleaning litter dome can be done simply without much hassle. The litter box is good for households having a lot of cats or different breeds of cats. Due to its attractiveness, this has been loved by cats and cat owners as well.
---
7. Purina Tidy Cats Litter Box System, BREEZE System Starter Kit Litter Box, Pads and Pellets.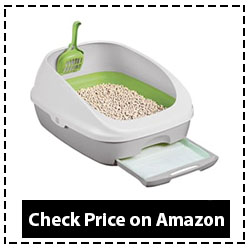 This works best for pet owners who just not only require a litter box for their pet cats but want a total system that is simple to understand and maintain. Upon combining the litter pellet and the pad system it changes the ways you think regarding cleaning the litter box and the included scoop and box would make it quite simple for getting the cats started off.
If you're worried about the mess around the box it gets minimized with 99.9% pellets that are dust-free and a throwaway pad that is ideal for absorbing excessive moisture in the litter box.


Pros
This is simple to maintain all in one littering system for your cats.
With an ammonia blocker, you guarantee the prevention of ammonia odor for 7 days meant for a single cat.
Absorbent pads for littering are an idea for cleanup that is mess-free: Litter pellets can dehydrate solid types of waste while helping in minimizing tracking of 99.9 percent dust-free.
Filtering litter pellets is helpful for solid waste for simple removal.
Cons
Available at a slightly higher price than others.
Summary
The cat litter system doesn't require refills quite often as Breeze litter pellets help you in keeping your things fresh for more than a month for a single cat, taking all the heavy lifting out. Cats and dogs of all sizes alike love this little home for all their private needs.
---
8. Merry Pet Cat Washroom/Night Stand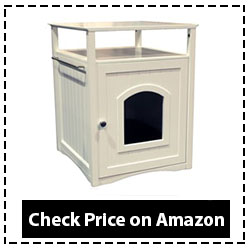 The Cat Washroom Night Stand isn't just another littering system for your cats, but it is a total Night Stand Pet House for blending seamlessly with interior settings along with style with classic clean and white wainscoting detailed paneling, cabinet design, along with hardware designed of stainless steel. This little pet littering system measures 20.5" x 19.1" x 25" inches and weighs 13.61 pounds supporting all cat breeds.
The attractive, multi-functional pet furniture sets next to the bed within the living area. This best cat litter box is ideal for hiding litter mess and it keeps the litter box out of sight. The clean classic white fiberboard cabinet is ideal for featuring stainless-steel hardware and wainscoting paneling. The product is available with one year warranty and works great for cats and larger pets such as dogs as well.


Pros
This also serves as a safe and discrete sleeping/resting area for cats and dogs as well.
The littering system is simple to assemble with the provided instructions and the hardware.
The box is fitted with a magnetized door that opens wide for simple cleaning.
The topmost shelf supports a total weight of 50 lbs.
Cons
Requires some add ons as well including the litter box.
Needs tight hinge screwing for fitting the place.
---
9. Modkat Flip Litter Box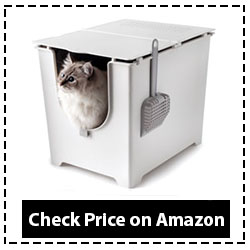 This best cat litter box from ModKat is one of its kind and offers simple access for cleaning and scooping while providing spacious interiors with three lid positions for satisfying the preferences of different cats. You can select between half open, fully open, or closed ones for privacy. With the lid mounted on top, you get tall and a seamless base for housing reusable tarp liner for a simple and mess-free littering solution.


Pros
Available with three positions for the lid and the flipping lid provides you with three positions for privacy (half-open, closed or open) for accommodating preferences of the cat.
With a full-height seamless base, the flip easily prevents litter scatters and any leakage.
The system for liner and hook helps in keeping liners securely held in their place.
The lid design ensures fast and simple access for cleaning along with scooping.
The patent-pending hook and liner system would keep your liners held securely in their place. These liners are rip-resistant and can be cleaned easily.
Cons
Square-shaped corners are not available with a lot of room.
Cleaning can be a little rough task.
Summary
With the renowned Modkat Flip Litter Box, you won't have to remove the large hood for proper cleaning of the box as you just have to swivel the lid open and start scooping! You can open it halfway for scooping on a daily basis and keep it open fully for removing the liner. This is ideal for multi-cat homes.
---
10. ModKat Litter Box, Top-Entry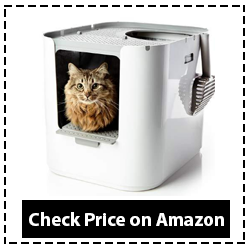 Pet owners who are looking out for a litter box that appears unique and eliminates tracking of litter can go for the ModKat Litter Box Top-Entry. In each detail of the box, pet owners will notice the thoughtful considerations behind it. The locking lid ideally acts as a walk-off mat for keeping the litter off from the floors. The scoop of Modkat is available with an ergonomically designed handle for smoothly shifting clumps. Also, the available liner is reusable and ideal for avoiding scratching and is tailored for fitting and simple to clean.


Pros
The lid with top-entry has a walk-off mat for reduction of litter tracking keeping the floors free from litter.
A seamless base prevents any leakage making it ideal for pets that pee on sides.
Easy access along with exit through a large entry path.
The swivel function avoids the removal of the hood.
The reusable liner fits perfectly within the litter box.
Cons
The liner can distort upon tampering.
Little bit costly for the design.
Not enough size for large cats.
Summary
Being featured in My Cat from Hell in Animal Planet, the award-winning best cat litter box from Modkat has been the choice of pet owners who wish to get completely rid of litter tracking. Avoid leakage while keeping the house floors free from any litter with the Modkat Top Entry Litter box.
---
BOTTOM LINE
Animal lovers, as well as pet owners, love their cats alike and while it would seem important to offer your cats with treats and foods, they need a suitable place for excreting. So rather than getting your house interiors dirty every now and then, it's much better to look out from the aforementioned cat litter essentials and save yourself from all your cat-related worries.
How to Choose Best Litter Boxes for Cats – Buyer's Guide
Quite similar to you, your cats are quite selective creatures for a lot of things – the main one being the litter box that they require. While buying a litter box for your cat you need to consider a lot of factors such as the material, the box design, size of the box and the different types of litter boxes available. With this finding best possible litter box available for the cat would be a chore. For guidance, we are also putting up a useful guide helping you in getting a quality litter box according to your cat's requirements, and mostly for their usage.
Different Types of Litter Boxes
Now it would be time for fun – finding the best litter box meant for the cat! Before you jump in, it's much better to know about the habits of your cat. Knowing about the behavior of their litter or other conditions would let you figure out their requirements. Cats disliking anyone invading their privacy would love to have a lot of these. Senior cats suffering from aching joints or arthritis will require a litter box where they can easily step. Some common options for litter boxes are:
Open Pans for Littering – Best for Various Cats
Litter pans are perfect to have when your multiple cats are not able to know when is the box available.
These occupy lesser space and cleaning is also simple. However, with an open-top, you would notice more odors and there wouldn't be any way to keep away curious dogs and kids as there isn't any barrier.
Odor Control with Covered Boxes
Covered boxes are ideal for keeping repelling odors from the litter at bay. For normal litter boxes, you would be occupied in more cleaning tasks and this is because hoods and covers have concentrated odors inside. For avoiding such unpleasantness, it's better to consider a litter box with inbuilt ventilation.
Covered boxes are also suitable choices for better privacy.
Litter Boxes for Busy People – Self-cleaning Litter Boxes
If your priority is convenience, you would have an automatic and self-cleaning litter box as a worthwhile option for investment. Such highly advanced options are available for eliminating waste from litter while storing it in a disposable container and plastic bag. You can find different automatic litter boxes in addition to disposable trays. Thus you're relieved of worries related to scooping and seeing the cat's waste. With these boxes, your cats would appreciate the cleanliness of the box.
How Many Litter Boxes Do You Need?
This mainly depends on if you're looking for a box for a single cat or a multi-cat household, this shouldn't be something like "one and done" while looking out for litter boxes. Everyone has different choices in mind, and for a lot of reasons, it would be good to provide your cats with these as well for making them stop littering around the house.
The rule of thumb would be to have a litter box more than the total count of cats in a household – this is considered as an "n+1 rule." For instance, 2-cats equals 3 littering boxes, and a lot more. Having only too few littering boxes would be common for issues relating to toileting resulting in cats that get relinquished towards shelter and checked by the vet.
Litter Box Sizing
Litter box-sizing would be among the most vital things to consider while you're selecting the appropriate litter boxes for your cats. No one likes having cramped quarters. To ensure that the selected litter boxes for cats are quite big enough for the cat to comfortably fitting inside, with a lot of added room.
Your cats must get ample space for moving and digging around, without getting stepped out. Adequate space must be there for avoiding "deposits" remaining around from previous visits.
A general rule that must be followed for finding appropriate size would be to have the right size of the litter box that has to remain at least quite as long as your cat, starting from its nose towards the tail tip (upon extension), and also its width must be minimum of width that is ideal to your cat's length.
Litter Box Entrance Height and Style
Box entrance height and styles are vital aspects to consider. Also, the condition and overall personality of your cats would play a role in dictating the box heights they require.
Ideal height for all cats

– Cats that aren't "sprayers" or the ones that don't often kick out litter from boxes, would require r5-7" high box entrances (especially for large boxes).

Ideal height for sprayers

– For these cats, you'll need a box entrance tall enough for minimizing risks associated with undesirable habits. However, you must also keep in mind that the cats are easily able to climb in and out of the boxes. Typically heights of about 8 to 12 inches are ideal and the entrance must be approx. 5 to 6 inches.

Ideal height for other mobility concerns

– Cats with mobility troubles like ones suffering through arthritis require boxes with a minimum of a single low-sided box. The side for entry/exit must be between 2.5 to 3.5 inches.
Entrance style
In this regard, no one knows better than the cat itself. While some cats like uncovered boxes, others won't. You can try either, but expect indications of clear preferences from your cats. However, if you're selecting covered ones, ensure that opening isn't little or making it hard to get within, and also you need to be ready for changes if the cat develops any health issue.
Litter Box Tips and Hints
Here are a few litter box tips that would help in getting comfortable with the purchase you've made and your cats would love it as well.
Consider surface at inside

– This would depend on the cat's behavior, as some would like rugs and blankets and others would think of going outside the litter box on tiles. The box interiors can be changed:

For instance, if the cat requires a softer surface, pick soft and fine litter.
If the cat goes on tiles, you can place tiles in the cat box bottom. Cove this with litter.

Have active house surroundings

– So your litter box shouldn't be in the kitchen or any scary dark corners. Thus, they have an active place that can be adjusted as well.

Places with loud noises must be avoided near the washing machine area as noises remain scary for cats.
Hallways and bathrooms can be considered.

Consider the requirements of your cats

– People with elderly cats should have easy availability of box and pet owners should buy more than one box.
How to Keep Litter Box Clean
To avoid day-to-day cleaning many cat tamers would think of getting automatic cleaning ones, but make sure that these can turn out to be troublesome especially when your cats are scared to be around it. Thus to keep the litter box clean in a proper manner you must consider these steps:
Lining litter box

– Liners can be optional but these are ideal while cleaning non-scooping litter and they can easily contain excess urine which can pool. Thus frequent change is required.

Pouring in cat litter

– Litter Manufacturers mostly recommend the use of litter of around two to three inches. Deep scratcher cats can have around three to four inches.

Scoop waste

– This should be done twice a day and more often if required. Fresh litter might be required after scooping for replacing the lost.

Dumping scooping

– Just discard everything in the garbage while making sure the odor doesn't remain an issue.

Prevention of litter box issues

– Use of clumping litter for regular scooping and replacing keeps litter box smelling clean and fresh, but at some point, the box would have to be cleaned and emptied on a regular basis. Non-clumping litter has to be more often emptied and washed.
Conclusion
Finding appropriate and permanent cat litter box solutions can be a tricky thing to do but with sufficient knowledge of all essential factors, you'll surely make the right decision for how to choose the perfect litter box. Before you have the right decision, make sure to keep cat litter behavior in your mind. This would play a vital role in the selection of the best available cat litter boxes. After narrowing down to a few suitable ones you can make your ideal selection along with accessories.