Among the premium joys of life is walking your pet on a daily basis either or morning or evening. The daily routine helps you in connecting with your pets on a much deeper level and vice versa. The daily chore has to be done without any hassles and to ensure this you require a professional quality leash. So if you're tired of snapping, canine pulling, snapping or your dog eating the leash, the best thing to do would be to make some changes. There are some best dog leash products that would fill your four-legged friend with excitement for another walk outdoors. Here we list down dog leash reviews of the best available products in the market for versatile purposes.
12 Best Dog Leashes in 2021
1. Paw Lifestyles Heavy Duty Dog Leash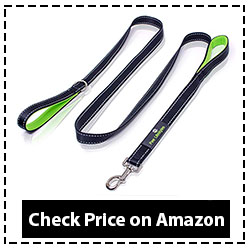 The Extra Heavy Duty leash from Paw Lifestyles is one of the top-notch leashes because of the durability and tough build. The product has been marketed as 2x thicker compared to other nylon leashes. Additionally, this leash is also made through comfortable plush padded handles, which would make it simple for owners to have walks in a peaceful manner. The best thing about the leash is the unique luminous reflective threads that are weaved throughout the leash. In simple words, the pet and owner always remain visible while night strolling.
Pros
Better control with dual handles.
Get more comfort for your hand with padded handles.
It provides safety and visibility with luminous threading with reflectivity.
Ideal for dogs of all sizes.
The product comes with a 100% money-back guarantee and is available at a budget-friendly price.
Cons
The clasp doesn't fit smoothly.
It can have issues with the open closing mechanism.
It isn't suitable for handling multiple dogs at once.
Summary
The leash is designed especially for dogs of medium to a large size like the Golden Retriever, Samoyed, German shepherd, Tibetan Mastiff, etc. The comfort and efficiency this leash offers for larger breeds are truly unparalleled.
---
2. BAAPET Strong Dog Leash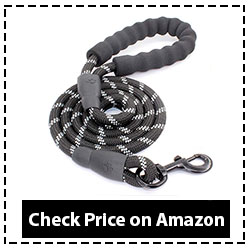 People who are concerned about handling their strong and heavy dogs without a lot of trouble should look forward to getting this heavy-duty rope leash. The leash is made through a 1.2-inch rock climbing rope and is available with a strong clasp and cushy handle meant for lasting for a long time period. The leash is ideal for late evening and night walking as well due to its reflective thread. And the leash easily works well for strenuous hikes and neighbor strolls as well.
Pros
The leash is tough and highly durable with rock climbing rope material.
It has soft handles with comfort, and you enjoy walks with a dog while protecting your hand from rope burning.
Get better night visibility with reflective night safety.
Get a total money-back guarantee with the leash purchase.
Ideal for running, jogging, hiking, camping with your pet, etc.
Cons
Can easily get chewed by excited pets.
The lash can slide around while walking your pet.
Summary
The handling capacity of the leash can be ideal for large breed pooches such as Great Danes and Saint Bernards. Owners' comfort is ensured with padded handling for feeling gentle and soft on hands.
---
3. PetSafe Nylon Dog Leash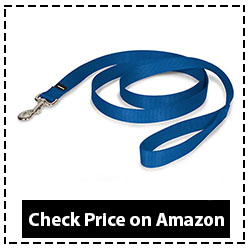 The Nylon Dog Leash from PetSafe is gaining status as the most renowned market leashes currently. To begin with, the manufacturers provide vibrant options for color, and all of these are a lot appealing. The leash is simple to use, without a lot of whistles and gimmicks. The leash is quite minimalistic and is available in different options and lengths, depending on personal requirements. So if you're searching for an additional training puppy, this would be among the best leashes currently available in the market.
Pros
Available in lively color choices such as apple green, raspberry pink, deep purple, royal blue, deep purple, black, red, etc.
The leash is minimalistic and doesn't confuse new users for open-close working.
Pairs well with training aids such as Gentle Leader Headcollars and Easy Walk Harnesses.
Cons
Dogs can easily bite through the leash.
It doesn't have a padded handle.
Not ideal for dogs of small size.
Summary
People who are looking to train or just walk medium-sized dogs must purchase the leash as it is 3 mm thick and has a width measuring an inch. Owners get higher durability with nylon construction with weather resistance and sturdiness.
---
4. Primal Pet Gear Dog Leash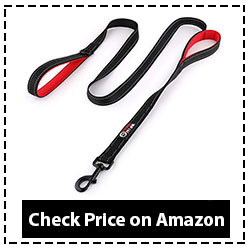 Pet owners and tamers who want the best dog leash with more options for customization can consider the Primal Pet Gear with options for comfort and control. The leash is composed of premium quality materials making it highly durable. The leash is multifaceted with the availability of a short and long leash. It is available with two different handles, both of which are designed for keeping walking pet easy and safe. You can get six color variations and you can select the one matching the personality of your pet dog.
Pros
The leash composition is of highly durable materials.
Consumers get a 1-year warranty for replacement.
The place is designed with a close sewn handle while ensuring the best possible safety while walking.
The product has a two-in-one feature, making it simple to monitor.
And the product has six different options for color variation.
Cons
Small sized dogs won't like it.
Compared to other leashes this one is a little bulkier.
Summary
The primal leash is among the best choices for extensive dog training or just strolling around with your dog. Owners get versatility for handling all types of dogs with ease.
---
5. U-pick Dual Dog Leash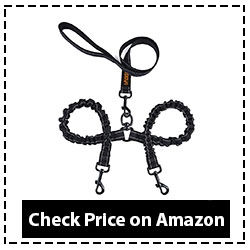 As suggested through the name, the Dual dog leash does well for owners with multiple dogs. The leash lets you control and walk two dogs at a time while having optimum control over both your pets! The dual dog leash lets you free your one hand while controlling both the dogs. The design is durable and allows your dogs to freely enjoy the outdoor environment without putting too much limitation. If you're often taking your dogs on long excursions the leash provides you with optimum comfort and holds well all day.
Pros
You get a 360-degree tangle-free swivel leash attachment for freer movement of dogs.
Bungee design for shock absorption of sudden quick movements.
Get additional night safety with reflective stitching.
Has a soft padded handle for a comfortable grip.
Nylon rugged leash material for durability for heavy dogs.
Cons
Little bit short double attachment not ideal for large pets.
It doesn't work well with different paced dogs.
Summary
People with pets weighing lesser than 110 lbs. will love this best dog leash for its flexibility and strength. Even with the most active pets, the leash doesn't get tangled and damaged.
---
6. TUG Patented 360 Degree Retractable Dog Leash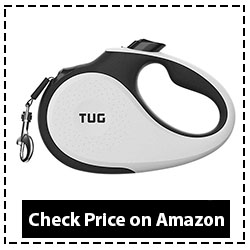 The leash is ideal for dogs of all sizes with its heavy-duty support. The retractable dog leash reaches 16 ft in length, providing the dog with a lot of space for walking around. The product has also been made with a patented design for preventing tangling, making it simple to control the dog without angle and with a leash lock mechanism and unlocking with simple thumb movement. The leash is available in different sizes small (33 lbs max), medium (55 lbs max), and large (for dogs weighing more than 110lbs) so that you are easily able to get the best retractable leash for your friendly pet.
Pros
360 degree capacity for rotation.
Durable tape leash for heavy pull resistance.
It doesn't have a tangled design.
It has a simple system for locking.
Available with Anti-Slip Grip.
Cons
The leash material is quite thin making twisting an issue while affecting the retracting ability of the leash.
Retractor can detract while pushing the button.
Summary
TUG Patented dog leash is one of the simplest, friendliest, and good-looking leashes for dogs of all types. The anti-slip handle ensures strong command over stubborn dogs.
---
7. SparklyPets Heavy Duty Rope Leash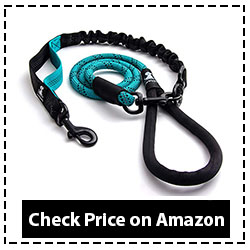 If the pet you're taming is quite large and strong, it would surely call for an equally durable and strong leash for keeping them in control while strolling around. The SparklyPets heavy-duty leash does well for its price with tough nylon composition with leather joints and a metallic hook. The leash is made with a thick rope and is available with additional elastic bungee extension, allowing the dog to pull safely on it, despite how strong and stubborn your dogs are. To get more convenience, the leash is available with a practical training guide and storage bag for feeding and caring for puppies.
Pros
The leash is highly durable with thick rope composition with nylon coating.
The bungee extension is shock-resistant.
Owners get stability for any sudden pull.
The leash rope is resistant to pet chewing.
With the leash owners also get a smart guide and a storage bag.
Cons
The leash isn't ideal for dog training purposes.
It doesn't work well for too heavy dogs.
Summary
In addition to its durability and usability, this is one of the best-looking leashes you can get in the market with its modern and unique appearance. The leash is available in different colors including black, green, blue, red, teal, etc.
---
8. TaoTronics Retractable Dog Leash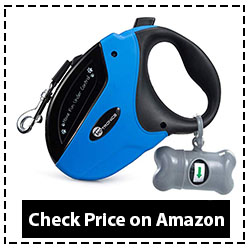 The TaoTronics Dog Leash has earned appraisal through many dog owners with its functionality and versatility. Dog owners who are looking for retractable leashes would be quite happy with their usage. The dog leash is tangle-free, has a comfortable handle, is extremely durable, and easily handles your excited pets wherever you are. The dog leash is nylon made with ABS plastic. Users get smoother functionality with an anti-slip ergonomic handle for tighter control. The leash has a lever for release and breaks letting you control the leash while preventing the dog from getting tugged accidentally. You can lock inappropriate lengths before walking the dog.
Pros
Weatherproof Core spring that works well in all weather conditions.
Retractable nylon dog leash.
Durable ABS casing available with ergonomic gripping.
The lock features release and brake functions.
The leash is tough and doesn't tangle.
Available with plastic bags in bone shape cone.
Cons
Upon retracting the leash frequently sticks.
Short clasp even for small dog breeds.
Gets chewed by dogs.
Summary
People who are looking to comfortably walk at their own pace without carrying a leash around can look forward to buying these are you strap leash in waist attachment. To get more safety at nighttime you also get reflective stitching.
---
9. Friends Forever Extremely Durable Dog Slip Rope Leash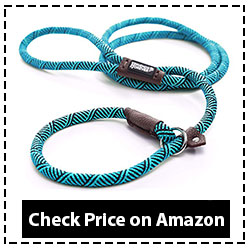 Do you want to have a chic and simple dog leash? You can definitely check out Dog Slip Rope you get with Friends Forever. The leash is made through heavy-duty waterproof mountain climbing rope, the leash is ideal for energetic dogs who are always eager to tug and pull according to their ways. The leash is available with reflective threads for nighttime visibility. The Friends forever dog leash is available with an adjustable lightweight loop for little dog breeds, and this is sturdy enough for withstanding large breed dog strength (tested with more than 1000 lbs). The leash is available in six colors for a good appearance.
Pros
6-foot long durable leash for free walking of a pet dog.
The material is machine washable and waterproof.
Get more night safety with reflective threads.
Cons
Doesn't work well for dog training.
Can break after too much heavy pulling.
Summary
Enthusiastic lightweight dogs can simply pull the leash the way they want to. The Friends Forever dog leash gets your dog in control no matter where you are with your dog. Dogs and owners alike love it.
---
10. Max and Neo Reflective Nylon Dog Leash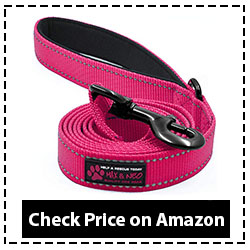 The reflective multipurpose dog leash from Max and Neo offers pet dog owners a simplistic walking and training leash rope that ensures optimum comfort and is durable and sturdy enough for withstanding pulling force by large pooch varieties. The dog leash is available with reflective double-sided stitching for better visibility making it simple for low light or dark environment usage.
Also, you can select from different colors with 2 widths of 5/8 inch and 2 lengths at 4 and 6 feet. The cord composition is of thick nylon for optimum ruggedness in unfavorable weather. A metal clip of the leash is available with D-ring to attach your preferred accessory for dog walking, providing convenience for the pooch.
Pros
You get 4 to 6 feet long cord according to your choice.
The handle is easy on the grip with full cushioning.
Safety reflective stitching on double sides.
Durable hardware for D-ring attachment.
Users get a lifetime warranty for the leash.
Cons
The leash can wear off with excessive usage.
The dog leash can be a little stiff and slippery for some breeds.
Summary
Dog and animal lovers, in general, would surely want to purchase the leash for its convenience but also to recuse dogs as they're donating the same leash for dog rescue. The leash warranty also covers accidental chewing of the product by a dog.
---
11. Pets Lovers Club Heavy-Duty Leash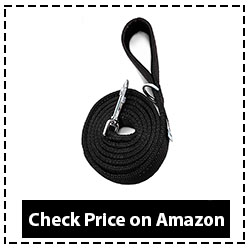 Is your dog keen on pulling every five minutes while you're walking? Chances are that they've started chewing the leash just while you've stopped looking! If you're facing such problems, the Heavy Duty Leash available by Pets Lovers Club does work ideally. The heavy-duty leash gets constructed through double-layer nylon for added durability and the leash easily withstands pulling even by the most stubborn and strong dog breeds.
Pros
The leash is one of the toughest and most durable ones with double nylon layer.
Has a padded comfortable handle.
6 feet in length
Has reflectiveness for added safety.
Cons
The clip gets broken after long usage.
Summary
Most importantly irrespective of how much the pet tugs, the leash wouldn't leave friction burns because of the padded handles. Being quite simple in its design, the 6ft durable leash works well for most dog breeds of different sizes. You get the leash in different colors of red, black, and blue with reflective versions of red and black.
---
12. Blueberry Pet Classic Leash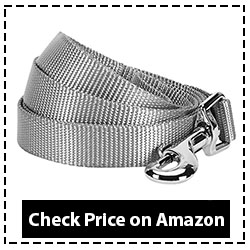 The Blueberry Classic Leash is an ideal choice meant for dogs of all sizes. The leash looks stylish and is quite simple to put on. It has a webbing of high density with nylon fabric and is quite durable. The leash mostly works well on dogs of smaller size. With that being said, the spinning sturdy snap easily withstands excessive pulling and tugging, mostly from small breed dogs and puppies.
However, the best thing about the leash is its elegant styling which is more on the simple and classy side. You can show off the pooch's style throughout the year. There are a lot of colors from which you can select such as black, violet, royal blue, baby pink, military green, and a lot of others, so getting the right style for the pet here is just a piece of cake.
Pros
The dog leash appears great with nylon coating.
The leash has a sturdy spinning snap.
This dog leash is machine washable easily
The leash is available in different sizes and colors.
Cons
The leash is slippery for furry dog breeds.
Harness chewing can be an issue.
Not comfortable for prolonged usage.
Summary
Also on gentle small cycles, the leash can easily get machine washed with items of similar color in cold water. Thus puppy owners can totally rely on the durability of the leash for their daily short walks.
---
Best Dog Leash Buying Guide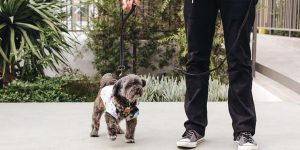 The dog leash is a must for any dog parent because of all the advantages and protection it has to offer. For everyday activities and walks, picking a good quality basic leash will work. However, for those dog owners dealing with a dog with a specific behavior or is in training, picking the right dog leash is crucial. Even though picking the perfect one for you and your dog may seem like an easy task. But the undeniable truth is that there are so many options to choose from which can even confuse veteran pet owners. So, how do choose the right dog leash?
Dog leashes are available in different styles, kinds, sizes, etc. made specially to cater to the dog of different temperaments, breed, and level of training. You can choose a leash as per your and your dog's requirement if you take into account the different things to consider before buying one. In order to help you select the perfect one for your fur baby, this guide will discuss some of these major things that you should focus on before going for the leash.
Choose the type of Dog Leash you may want
There are many different types of dog leashes available for pet lovers. From bike leash to halter collars; the list is quite big. However, there are three major types of dog leash that work best for most scenarios. These are:
1. Standard Dog Leash
They are perfect for dogs who will start or are going through basic training. Owners who prefer to walk their dog regularly need to have a standard dog leash. This type is the most popular one and is made with braided or solid material. Usually, it is made with nylon and can be anywhere from 4-feet to 8-feet long.
2. Retractable Dog Leash
There is a misconception about this kind of leash as tends to introduce the habit of pulling on the leash. The leash usually has a nylon cord that is placed inside the handle allowing the owner to extend, lock and unlock the leash at any point. You can extend it up to 30-feet generally and once you unlock it, the leash will retract back into the handle. Thus, if you want to provide more freedom to your dog while he/she is wearing a leash or have a dog that is leash-trained then it can be a good choice for you as long as your dog is not large/big and/or have high energy.
3. Adjustable Dog Leash
This 2-in-1 type allows dog-owners to put on or remove clips or loops to adjust the length (3-6 feet) of the leash; making it perfect for dogs who are training for a longer lead room. Besides, they are also perfect for walks as it provides more freedom to your dog than some of the other types available.
Different materials of Dog Leash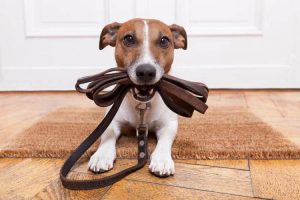 After the types, the next thing that you need to consider is the material with which the leash will be made. Even though cotton or rubber leashes are common now, these three choices that will be discussed next in this dog leash buying guide are ubiquitous, safe, and best options to go for:
1. Leather Dog Leash
Leather dog leashes are usually made with good quality raw materials making them durable as well. It is one of the most comfortable and soft dog leash options to choose from. It can definitely stand the test of time and your dog's chewing. However, dog owners do need to maintain it with items like a leather conditioner to ensure it can serve its purpose effectively.
2. Nylon Dog Leash
The reason why so many dog parents go for this material is that it is durable yet affordable unlike other similar options available in the market. It comes in many different styles and colors which will help you to show off your and your pet's personality. It is the best option if you want to avoid wet leashes; however, they are not resistant to chewing.
3. Chain Dog Leash
If you are looking for a leash that is nearly 100% resistant to chewing then this type will work for your fur baby. They are usually for large or big-sized dogs or dogs that tend to pull; however, thinner/sleeker variants are available for small dogs as well.
Determine the correct length
Dog leashes are mainly available in three different lengths and they are 4-feet, 6-feet, and 8 to 10-feet. For training purposes and to keep control of your dog, consider the 8 to 10-feet ones. The 6-feet ones are the most common and happen to be perfect for walks in areas with less traffic. And lastly, the 4-feet long dog leashes are perfect for the owners who tend to walk/train their dogs in areas with high traffic and a large crowd. They also work best for owners who are looking for ways to control their high-energy dogs effectively.
Consider the right width
You have two options with the width that you must take into consideration if you want to buy an appropriate dog leash. The thinner/slimmer leashes, as mentioned before is best for small-sized dogs and puppies. On the other hand, the thicker-width ones are best for large breeds or with dogs known for chewing and pulling their leash.
What size of Dog Leash Do I Need?
In order to know what size does your dog need, you have to measure the neck size correctly. In the case of most dog leashes, the smallest size is generally between 9 to 13 inches, whereas the biggest size is between 24 to 25 inches.
Training your Dog with a Leash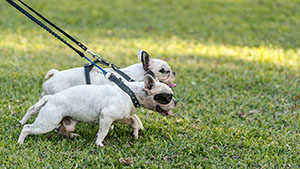 Nowadays, finding accurate options both online and offline that can effectively help your dog to train with the leash on is quite easy. To make the training process quicker and faster with the lasting result, here are some tricks that every dog parent needs to know:
Do not start the training process immediately. First, you need to make your dog get familiar with the newly purchased leash. Introduce the leash by putting on the collar only for few days before attaching the strap.
Using treats to teach your dog good behavior/tricks is very common. Use this technique if you are having problems with leash training.
The trick is to practice with the leash indoors or in the backyard first before taking your dog in public or high-trafficked areas.
Tips to Walk Your Dog with a Leash
Even with the mentioned tricks to leash-train your dog, you may still face problems while walking your dog with the new one on. In such instances, these tips will surely come in handy:
It is important to keep the walks with a leash on frequent and short. Having to follow the same routine with new restrictions and additional weight can exhaust your dog. You have to ease into the whole process organically.
Your pace of walking should be quick. This makes sure that your dog stays focused. Besides, you will be able to handle the pulling on the leash better if you do this.
Using treats here will also help. This will help you to provide an impression to your dog that walking with the leash on can earn him rewards.
There you have it, hopefully, this Dog Leash Buying Guide has helped you to understand what are the things that you need to look into to ensure you are making the right choice for you and your pet dog.