Your canine companion needs healthy food which can help them to grow to their optimum. Though there are a number of best foods for dogs available online, you need to choose a preferable food product for your 4-legged friend.
The list we have compiled in this article is about the best dry dog food which not only is recommended and used by dog owners but vets also ask to use these dry food products for dogs.
So, in order to choose the most suitable product, we have provided the description, pros, and cons, and a small summary of dry dog food to help you get the most out of this article. Let us look at the list now:
12 Best Dry Dog Food Reviews in 2021
1. Taste of the Wild High Protein Dry Dog Food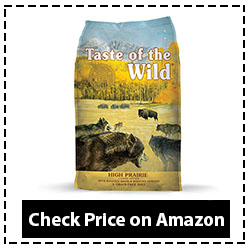 Starting off with the list we have a dry dog food by Taste of the Wild which weighs 30 pounds. This dry dog food is loaded with protein-rich ingredients like roasted bison which provide the optimal amino acid profile to build strong and lean muscles.
Real meat is the number one ingredient that Taste of the Wilds focuses on. Their secondary focus is on vitamins and minerals. The product also contains fruits and vegetables, fatty acids for skin and coat, and added antioxidants.
What it does not focus on are grains, wheat, corn, filler; no added artificial flavors, preservatives, and colors. All the ingredients are from trusted sources. All the nutrients are highly digestible and contain probiotics that thrive and survive in the GI tract.
Pros
Grain-Free.
Rich in vitamin and antioxidant.
Overall ingredient quality is good.
Includes prebiotics.
Cons
Questionable quality.
Not regularly offered in unofficial stores.
Summary
Taste of the wild is the best option for dogs that have grown hypersensitive to other sources of proteins like chicken and beef. This product is grain-free and instead, other rich sources of carbs are included.
---
2. Merrick Grain Free Dry Dog Food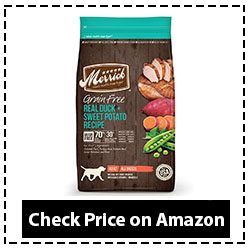 Second, on the list, we have another grain-free formulated with no gluten Ingredients product by Merrick which can be easily digested by your canine friend. It uses real deboned duck as the primary ingredient.
To make the balance, it uses real whole foods such as peas, blueberries, sweet potatoes, and more. Omega-6 and Omega-3 fatty acids provide incredible support for great looking and healthy coat and skin.
Leading levels of Chondroitin and Glucosamine aid for healthy joints and hips. Dry Dog Food by Merrick is suitable for all breed sizes and all ages of dogs, be it puppies or seniors or dogs who require to maintain a healthy weight.
Pros
High protein and fat content.
Grain-free.
Novel protein.
Cons
Some users find it expensive.
Diarrhea complaints are common.
Summary
Dry Dog Food by Merrick takes pride in using various protein sources. Merrick comes in Texas beef, duck, turkey, rabbit, chicken, and buffalo for choosing. Though the price is comparatively higher than the competition, Merrick is loaded with extra features including glucosamine for healthy joints.
---
3. IAMS Proactive Health Dry Dog Food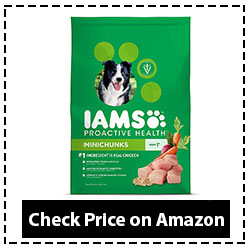 Minichunks Dry Dog Food offers one 7-pound bag of IAMS. It is one of the most popular brands for dog food which manufactures dry dog foods for puppies, adults, and mature. Besides that, many vets also recommend IAMS.
IAMS Minichunks Dry Dog Food is loaded with real farm-raised chicken which is their primary ingredient and along with that, they serve high-quality wholesome ingredients that help to build strong muscles.
For balanced nutrition, IAMS strictly avoids artificial flavors and preservatives and 0% fillers. Instead, uses healthy and premium prebiotics and fibers for proper digestion.
The best quality, it is formulated with L-Carnitine for metabolism and antioxidants aids to strengthen the immune system.
Pros
No wheat and soy.
Enriched with L Carnitine.
It contains beet pulp.
No artificial ingredients.
Value for money.
Good choice for older dogs.
Cons
Some buyers reported allergic reactions.
Dog farts were seemed to be common.
Summary
IAMS guarantees to be using protein-rich chicken for growth blended with L-carnitine for super metabolism. There is no doubt in saying Minichunks Dry Dog Food by IAMS is coming from a trusted and reputed brand.
---
4. I and Love and You Naked Essentials Dry Dog Food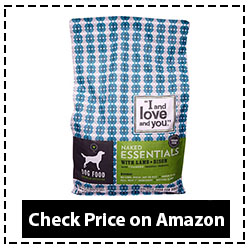 Essentials Dry Dog Food by 'I and love and you' comes with 0% grains and instead includes nutrient-rich lentils, sweet potatoes, and chickpeas. Absolutely no fillers like artificial flavors and preservatives or colors and no by-product meals too.
Essentials Dry Dog Food's first ingredient is Real Meat. This high-protein dry dog food has 30% protein coming from – fish, meat and poultry sources. It is available in duck, bison, trout, salmon, lamb, and chicken.
It is suitable for all life stages, puppy, adult, and mature. Plus, it is perfect for small, large breeds or long-haired and short-legged breeds.
It is loaded with prebiotics and probiotics that aid digestion. And Omega 3 and 6 will promote healthy skin and coat.
Pros
Prebiotics and probiotics.
Grain-free formulation.
Multiple flavors.
High protein and low sugar.
Cons
Legumes can be a problem.
Dilated Cardiomyopathy.
Summary
With absolutely zero percent of grains, this dry dog food is loaded with all the necessary growth and easy digestion ingredients which makes it is a super combo that your dog needs to have.
---
5. Blue Buffalo Life Protection Formula Dry Dog Food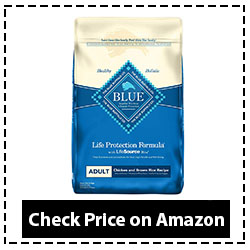 The primary ingredient of this dry dog food is Real Meat. It contains high-quality protein from chicken that will help your dog to maintain or grow healthy muscles. In addition, it is loaded with wholesome grains, fruits, and vegetables.
Omega 3 and 6 fatty acids help to promote healthy skin and a shiny coat.
It is the perfect choice for adult dogs as it contains all the essential life-protecting formula. The formula contains a precise blend of vitamins, minerals, and antioxidants. All ingredients are selected by expert vets and animal nutritionists that aids the immune system, healthy oxidative balance, and overall life.
Blue Buffalo Dry Dog Food contains no by-product meals, soy, corn, wheat, artificial preservatives, and flavors or colors.
Pros
Best dog food with grain.
No unhealthy byproducts.
Good choice for older dogs.
Enriched antioxidants and Omega 3 & 6 Fatty Acids.
Cons
Questionable quality.
Skin irritation.
Summary
Blue offers a life protection formula that is blended with rich meat-based products, antioxidants, and well-balanced canine nutrition which provides a healthy life to your dog.
---
6. Purina Beyond Simply 9 Adult Dry Dog Food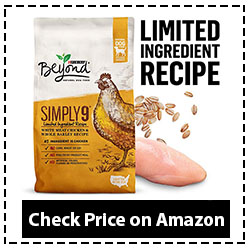 Dry Dog Food by Purina's #1 ingredient is Real Chicken. Also loaded with wholesome grains like oatmeal, rice, and barley which provide exceptional fiber for easy digestion.
It uses only white meat of chicken itself can be allergenic. Other essentials include sunflower oil, canola meal, and natural liver flavor. Everything loaded in this product makes it a perfect choice for growing dogs and dogs who needs protein and have barring problems in the kidney.
Pros
White meat chicken.
Wholesome grains.
A good option for picky eaters.
Good quality and smell.
Cons
Some buyers have issues with the price.
Summary
Dry Dog Food by Purina focuses on real chicken that too white meat chicken, so that your dog may not suffer from any kind of allergic reaction. It is a perfect choice for growing dogs.
---
7. NUTRO MAX Natural Adult Dry Dog Food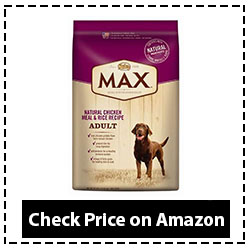 To start with the list of best dry dog food we have chosen Nutro's MAX Mini Chunks Dry Dog Food. It is a unique blend of natural ingredients. It includes farm-raised chicken as the primary ingredient that provides protein in large amounts.
And it is also grain-free and can be exclusively used if your dog is sensitive to certain grains. It only includes oatmeal and brown rice as fiber for proper digestion.
Nutro's Mini Chunk Dog Food also features a smaller Kibble Size that helps to chew the food easily and thus again provides easy digestion and absorption. It does not contain any fillers like artificial flavors, preservatives, or color, it is all-natural.
It is suitable for all life stages (puppies, adults, and matures). Also, note that this dry dog food from Nutro is not GMU (genetically modified food).
Pros
Farmed-chicken.
Healthier wholesome grain.
No GMO ingredients.
Good choice for large breed dogs.
Value for money.
Well-balanced formula.
Cons
Some users have complained about ingredients.
Summary
Nutro's dry dog food is all-natural and does not contain grains. It is suitable for all life ages and especially beneficial for large breed dogs.
---
8. Rachael Ray Nutrish Zero Grain Dry Dog Food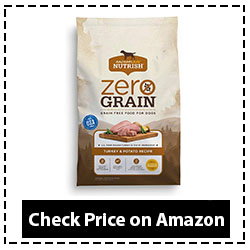 Zero Grain Dry Dog Food – Rachael Ray Nutrish is second in the list which uses U.S farm-raised turkey as their primary ingredient.
This dry dog food is completely loaded with ingredients some of them included – turkey, chicken meal, Whole Dry Potatoes, Tapioca Starch, Dried Peas, sources of Vitamin C, Plain Beet Pulp, and many more.
There is no grain and gluten recipe involved in this product. Plus, no by-product meals or filler ingredients like artificial flavors, artificial preservatives, or added color.
Pros
No artificial ingredients.
Real U.S. farm-raised chicken.
Higher moisture content.
Affordable.
Good choice to fight wheat allergy.
Cons
Issues with size.
Common causes of diarrhea.
Summary
The biggest difference that separates Zero Grain Dry Dog Food – Rachael Ray Nutrish from other dry dog food is the moisture percentage. Most dry dog food contains only 10% moisture. This product is free from artificial ingredients and instead features chelated minerals and vitamins.
---
9. Nature's Recipe Adult Dry Dog Food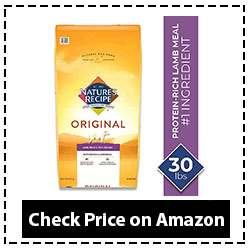 Nature's Recipe Adult Dry Dog Food is loaded with high-quality protein sources like lamb meals and rice recipes. It helps to maintain optimal muscle strength.
Along with that, you will find wholesome grains, vitamins, and minerals instead of gluten. For proper digestion, brown rice will provide aid that is already found in the product.
Nature's Recipe Adult Dry Dog Food contains no added corn, wheat, soy, by-product meal, and fillers like artificial color and flavor.
Pros
Smells good.
Good ingredient quality.
High-Quality Protein.
No wheat and corn.
It contains lamb, oatmeal.
Reasonable price.
Cons
Some users have issue of changed ingredients.
Summary
If your dog is allergic to corn, wheat, or soy Nature's Recipe Adult Dry Dog Food is the perfect choice for you. Instead of wheat and corn, it is loaded with high-quality protein sourced from lamb meals.
In addition, the recipe is responsible for boosting metabolism and will help grow lean and strong muscles.
---
10. Diamond Naturals Real Meat Recipe Dry Dog Food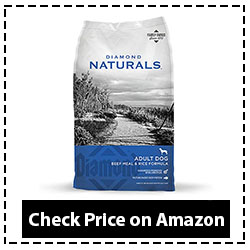 Premium Dry Dog Food by Diamond Naturals is a Real Beef protein-loaded nutritious food for dogs. It contains superfoods such as – kale, pumpkin, chia seed, and blueberries.
All these items act as antioxidants and probiotics that help to support the immune system. Omega 3 and omega 6 Fatty acids help for promoting healthy skin and coat.
This product does not contain corn, wheat, or soy.
Pros
Beef protein.
Contain probiotic.
Enriched with superfoods.
Glucosamine and Chondroitin.
Omega Fatty Acids.
Cons
Questionable quality.
Some users have an issue with its price.
Summary
Diamond Natural is a perfect choice for pet parents who are looking for a product that could improve their pet's digestion. All the digestion takes place in the dog's gut, Diamond Natural Dry Dog Food contains 80 million CFU (colony-forming units) that help to ease the digestion process while maintaining a balance between bad and good bacteria.
---
11. Wellness Complete Health Natural Dry Dog Food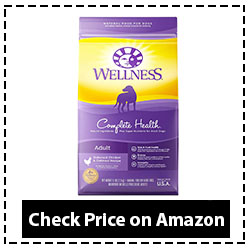 Natural Dry Dog Food is a product by Wellness Natural Pet Food that follows the no-artificial ingredients rule and only provides natural ingredients in their products.
It is loaded with complete and balanced nutrition that is used every day to support your dog's healthy lifestyle. It includes wholesome whole grains instead of wheat, corn, soy, and by-products meals. Plus, Natural Dry Dog Food avoids the use of fillers like artificial flavor, preservative, or color.
Natural Dry Dog Food follows a healthy weight formula. It includes – reducing the calorie diet with deboned chicken and peas. This helps to satisfy hunger and maintain the healthy weight of your dog.
Pros
It contains wholesome whole grains.
All-natural, no artificial ingredients.
Balanced Everyday Nutrition.
Cons
Diarrhea is a common case.
The packaging issue is common.
Summary
It is one of those healthy food items for dogs that do not deal with grains but instead use wholesome whole grains like oatmeal and barley that helps to ease digestion.
The best thing about Natural Dry Dog Food is that it only uses the finest all-natural ingredients.
---
12. Natural Balance Limited Ingredient Diets Dry Dog Food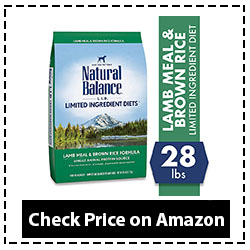 L.I.D. (Limited Ingredient Diets) dry dog food provides essential amino acids sourced by lamb meal to maintain and grow strong and lean muscles. It is suitable for all breeds.
Omega-3 & Omega-6 Fatty Acids help to promote a shiny coat and healthy skin plus, fibers coming from brown rice will help to support healthy digestion.
L.I.D. Dry Dog Food does not contain corn, wheat, soy, artificial flavors, preservatives or colors.
Pros
12% fat as a minimum.
21% protein.
Brown rice as carbs.
Omega-3 & Omega-6 Fatty Acids.
No fillers.
Balanced Nutrition for Adult Maintenance.
Cons
Gas and diarrhea are common.
Questionable ingredients.
Summary
If you have a dog who is very sensitive, has food allergies, or has a problem with digestion, L.I.D. Dry Dog Food by Natural Balance is the solution. It contains lamb meal and brown rice that helps to eliminate allergies that could possibly be created by grains like wheat and corn.
In addition, Natural Balance's Dry Dog Food provides a balanced diet for your dogs.
---
Best Dry Dog Food Buying Guide & FAQs
Though you can find various types of pet foods in the market, most people, as well as dogs, prefer dry food. However, choosing the best dry food for dogs is not an easy task due to the availability of foods in various grades and brands in the market. So, to buy the best dry food for your dog you will have to consider a few things. Some of the essential things to consider while buying dry dog food are briefly discussed in this write-up for your guidance.
These things you need to do in advance
Learn as much as you can about the contents of healthy dry dog food.
Read and understand the product's nutrition standard statement.
Consider wholesome grains and glutens included in the kibble.
Understand what 'byproducts' really mean in these pet foods.
Read and understand the statement of nutritional adequacy.
Look for information about any feeding trials.
Consider checking the guaranteed analysis.
Don't forget to seek the advice of your veterinarian when buying dog food.
Dig deeper into your chosen pet food.
Things to consider when buying the best dry dog food
Age and health condition of your dog
Most of the dry dog foods available in the market have been designed for dogs with normal health conditions and dogs of average age. But you cannot give any dry food to any dog. If your dog is old or unhealthy then before buying dry food for him you should consult your vet to check the health of your pet and guide you about the type of dry food you can give him.
Proteins and fats first, carbs last
The dry food you choose for your pet should be well balanced. It should include all the essential ingredients in proper proportion. However, the dry food for your dog should include protein-rich ingredients like eggs, dairy products, and meat, etc. to maintain their health. It should also include 10-15% fat like flaxseed oil, canola oil as well as fish oils that contain omega-3 fatty acids. It should also include carbohydrates in the dry food for your dog as they are a good source of energy for them.
But instead of using simple and refined carbs, you should include complex and fibrous carbs in their diet. It should also include various other minerals and vitamins essential to keeping your pet healthy and active like calcium, vitamin A and E, magnesium, phosphorus, chloride, sodium, potassium, and sulfur, etc.
Clearly identifiable ingredients
While buying dry food for your dog you should read its label to find whether you know what is included in that formula food or not. It is not essential that premium quality dog foods contain all the best ingredients. Sometimes you can find the ingredients required for your dog in budget or basic foods also. So, you should ensure that the ingredients in the food are recognizable.
Best-by dates
While buying dog dry food you should also focus on its manufacturing and expiry dates to ensure that you are going to buy the freshest food for your dog.


Things to avoid with dry dog food
When you are feeding your dog with good quality dry food you should avoid using food with certain ingredients like:
Low-quality meat or/and poultry byproducts:
Though poultry products and meat are considered a good source of protein still you should avoid them while feeding your dog dry food if their quality is low.
Generic protein and fat source:
Though protein and fat should be essential ingredients in dry dog food a generic source of fat and protein may not be suitable for them. The fat derived from any animal may contain low-quality ingredients. The source of fat and protein should be well defined on the label of the dog food.
Artificial ingredients – sweeteners, preservatives, coloring:
Most of the manufacturers of dry dog food add artificial ingredients to increase the shelf life of their products as well as to make their products enticing for pets. However, dogs get attracted to eat dry food through its flavor and taste. They are least attracted by the color and sweet taste of the food. Artificial ingredients can be harmful to them in many cases.
Low-quality fillers or/and grains:
The dry food for dogs should not include low-quality grains and fillers as this food will not provide them enough energy and strength. Instead, the inferior quality of these ingredients can be harmful to them.

Best Dry Dog Foods FAQ:
What's the best way to transition to new dog food?
When you want to switch your dog to a new food it is important to switch him gradually to avoid tummy and digestive issues. You can also mix his current food and the new food for 5-7 days and decrease the quantity of current food and increase the new food in a gradual manner.
How long does dry dog food stay fresh?
If your dog needs a lot of food to eat in general then you can buy dry dog food in bulk as it can remain fresh until the date of its expiry if you have not opened it. But, once you open the pack then you should consume it within 5-6 weeks. You should keep it away from moisture to increase the shelf life of the opened pack.
What's the best way to store dry dog food?
The best way to store dry dog food is to store it in a dry area where the temperature remains less than 100F constantly.
How is dry dog food made?
The manufacturers of dry dog food mix all the basic ingredients including poultry products, byproducts of meat, food grains, seafood, and soybean meal, and grind them. Then they give the mixture a shape you find in the pack and cook them.
How do I soften dry dog food?
Adding water to dry dog food is the easiest way to moisten it. Instead of adding a lot of water to it you can start with a few spoons of water to soften it. You can also use stock or broth, yogurt, or other meals to soften the dry dog food.
Can dry dog food go bad in the heat?
Heat if not bad for the dry dog food as instead of spoiling it heat can make it drier. But heat can stale the taste of the oil in the food. However, moisture can really be bad for dry dog food. So instead of storing it in a hot environment, it is important o store in a dry place.
What can I mix with dry dog food?
You can mix dry dog food with chopped fruits or veggies like green beans, carrots, bananas, apples, or blueberries to make it a tasty treat for your pet.
After reading this article, did you find what dry dog food you need most? I'm glad to hear "Yes, I found it." Additionally, I think you may also like the best dog bowl.