If you happen to be like me and own a cat, you'll know that cats are real finicky about their cat litter box. It can get real stinky if you try to get the cheap stuff and worse yet, the wrong kind of cat litter can actually be a hazard for them as well. Don't sell yourself short when searching for the most effective solution for finding the best cat litter on the market. Here are my top 10 picks for 2021.
1. Dr. Elsey's Premium Clumping Cat Litter: Best Overall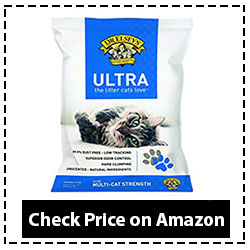 For an affordable brand of cat litter, you just can't beat the selection that Dr. Elsey's offers to cat owners. Among the dozen litter formulas they sell, this is the best cat litter if you have more than one cat. In fact, this clumping cat litter is the perfect non-scented clay-based litter. It's totally excellent at clumping urine when you have multiple cats using the same box (or boxes) too.
The granules are pretty heavy so you won't get them tracking in and around the box. Even if you can't clean it daily, so the odor was well contained, to say the least. There's low dust in this mix version, and you don't need to worry about Fluffy having more reasons to cough. The downside to this litter includes some clumps sticking to the sides of the box. And if your cats have been busy, you might see some caking as a result.
This litter is clay and that means it will be naturally heavier. Bags sold online offer 18, 20, and 40-pound bags, so remember that when you consider shipping cost. Other than that, you might be better off ordering 18-pound bags at a time.
Pros
Perfect for multi-cat homes.
No more tracking problems.
Excellent at odor control.
Self-clumping really works.
Cons
Can have clumps sticking sides of cat box with caking effect.
It makes the box harder to clean.
---
2. Arm & Hammer Clump & Seal Multi-Cat Litter: Best for Multiples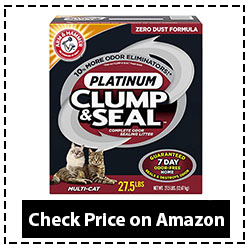 Another brand that works great from a name you already know that controls odors is Arm & Hammer. This is great for any multi-cat home and offers that classic clumping formula to boot. It's good up to 7 days without the stink, but the downside is the strong clean scent in the granules. Then again, if you have cats that can be smelly in the cat box- this product really delivers.
Just like the name says, this stuff is made with baking soda so the odor is really controlled. Clumps don't fall apart at all and make cleaning easier to manage. It is also 100% dust-free which makes breathing problems less of a worry. The downside is that by buying this online, you might have to go to the post office to pick it up. Some delivery services don't like to carry 40-pound bags to your door.
Some people have compared this to Dr. Elsey's Premium Clumping Litter and like this brand better. If you like the super-strong clean smell over nothing at all, this is your best bet. If not, choose Dr. Elsey's instead.
Pros
Excellent multi-cat litter.
Baking Soda eliminates all odors for up to 7 days.
Self-clumping for easy clean-up.
Cons
Very strong scent added.
It may not be suitable for smell-sensitive noses.
Larger bags might have delivery problems if you buy online.
---
3. Purina Tidy Cats LightWeight Clumping Litter: Best Lightweight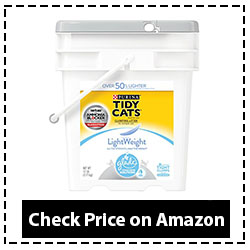 Another scented cat litter that has the unmistakable Glade smell is this version. The smell isn't a bad thing, but if you need to know it works great – it does! A little too good if you can smell it on your cat- letting you know where they've just done business. Besides that, it also has an ammonia blocker that really works well for keeping odors for 2 weeks. Count of this brand is the best cat litter for odor control.
Clumping on this brand works surprisingly good since urine clumps were all small and held together very nicely. You won't need to top it off too often either after each cleaning too. The best part is there is no dust with this stuff. Pouring the litter into the box proved that instantly. Since it is a lighter-weight cat litter it makes carrying a 17-pound box easier. It actually is worth the value as any 35-pound sack of the other litters.
The downside is a cat litter that tracks much more than you might care to clean up. Be sure you have your robot vacuum on duty where you keep your cat box. And as far as the Glade scent, they do offer an unscented version available.
Pros
Has an ammonia blocker added to control any odor!
Smaller clumps mean fast clean-up.
No dust at all.
Cons
Lighter granules lead to tracking of cat litter outside the cat box.
Strong scented may be too much for smell-sensitive people.
---
4. Blue Buffalo Naturally Fresh Cat Litter: Best Natural Litter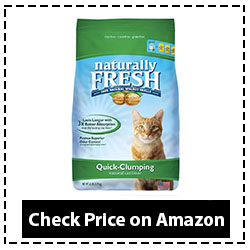 Are you looking for something more bio-effective? This cat litter is made from Walnut fiber and is great for controlling odor too. Can absorb cat urine into solid clumps in 15 minutes, so cleaning up later is easier! Since it is made from Walnut, it makes this product 100% bio-degradable and earth-friendly.
There is absolutely no silica dust in this litter which is a real plus. You won't have to worry about silica dust or breathing problems either. A great bonus is that it won't stick to your cat either, so tracking this stuff all over – is solved. If you have dogs, this product is healthier for them is they tend to scavenge around the cat box.
The only downside is minor tracking around the cat box itself. Since this is Walnut-based, it is technically bio-friendly so flushing isn't a problem either. There are no added scents and really work well at covering the other deadly smells. The upside is that a single 26-pound bag absorbs 3 times as much as typical cat litters can. Certainly, worth the money, you'll pay.
Pros
100% bio-degradable product.
Excellent at controlling odors.
It can be flushed easily.
Pet-friendly and non-toxic.
Cons
Little tracking around the cat box since the product is Walnut fiber.
It does not clump.
---
5. Purina Yesterday's News Unscented Litter: Best Paper-Based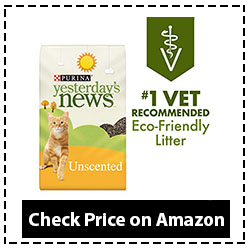 You want a brand that you already know and trust? Purina has something eco-friendly that might solve your problems. Made from recycled paper, these granules come in the form of little pellet sticks. They are mighty at controlling liquids and leave odor problems away. It's perfect if you have an older cat with sensitive paws as well.
Actually, this is the kind of cat litter that's intended for cleaning once a week and then ultimately tossed entirely. Thus making it more enviro-friendly for anyone who wants to save the planet. This is not a clumping litter but does some wonders at sucking up cat urine. It doesn't do such a great job at odor control like the clay does. So be warned that this product would not be good for multi-cat households. It is perhaps the best litter for kittens.
A positive note is that you won't get any tracking at all because these little logs just don't stick. A bonus is that this alternative cat litter is also good for other animals such as rabbits. While daily cleaning is advised for solid waste, odor control works well since this is just 100% recycled paper only.
Pros
Perfect for both cats and kittens and even rabbits.
Cost-friendly for weekly usage.
Very good at odor control.
Environmentally friendly.
Cons
Does not clump.
Urine can be set in pools if too many cats are present.
---
6. Fresh Step Cat Litter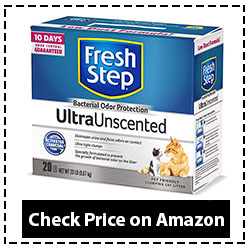 For those who are budget-minded, you'll want to consider this premium cat litter. Most people still think a top-quality cat litter will be expensive but this brand is absolutely worth its weight. The first feature is the Carbon activated charcoal added to this litter will be super effective for absorbing odors. What makes this feature better than others is that it will give this litter a longer life overall. Less litter needs to be added each time you clean the cat box itself.
Fresh Step also decided to add an anti-bacterial additive that really helps to keep those bacteria germs from growing. As you might know, bacteria are the main reason bad smells are present. This litter also clumps up, so cleaning the box will be nice and easy. This is a natural unscented version, which is a real plus. A real workhorse for extreme cat households making it the best cat litter for multi-cat owners. Works great for automated cat boxes too.
Pros
Good for big multi-cat homes.
It hides bad smells.
Anti-bacterial to keep smells from forming.
Cons
If you want to be overly critical, it could be cheaper.
It does lightly track litter.
---
7. Ever Clean Extra Strength Cat Litter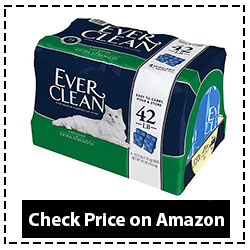 Another great alternative to the unscented litters is this top-notch product. It is also activated with charcoal which will keep strong smells away for days. This clumping cat litter is also clay-based so tracking will be minimal but still visible around the cat box area. The larger granules are supposed to keep tracking to a minimum and it does well in that respect. It does even better at keeping dust levels to a minimum too.
When it comes to clumping, this makes super-hard clumps like crazy, Clean up is easier and without odors emerging at all. The best cat litter with charcoal that's been added, makes those residual smells virtually invisible. You won't even know there is a cat box since the unscented formula covers its tracks so well. If you have a big cat habitat, this product will be the perfect solution for you. Price is not bad either if you are on a budget.
Pros
It has active carbon to absorb stinky smells.
Excellent at clumping.
Unscented is a real plus.
Cons
Clay litter is fairly heavy.
Does track a little bit.
Any dust found is a bit sticky.
---
8. Dr. Elsey's Precious Cat Senior Cat Litter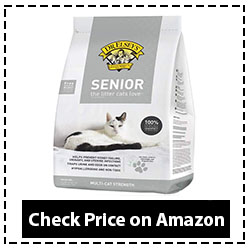 Switching gears for a second, this cat litter is meant for adult cats who are older and more prone to infections. Mainly urine tract infections to be precise. This is a silica-based crystal product that instantly absorbs urine on contact. It's meant for multi-cat homes where older cats are present. You can be sure that this litter is also 100% bio-degradable as well. Perfect for regular and automated cat box cleaners.
If you are tired of that tell-tale cat urine smell, this is the best senior cat litter on the market. Though it doesn't clump, it totally dries out cat poop to lock away any kind of smells that can form. This litter is also great for keeping infections that can start with senior cats due to aging kidneys and the urine track. This silica crystal formula is superior at keeping them from being tracked around too. Your best buy for senior cat litter by far.
Pros
No dust at all.
Great at absorbing urine totally.
Color change in gel tells you to replace crystals.
Cons
Does not clump at all – one time use.
It is pricier than others but worth it.
---
9. Weruva It's A Tea Potty! Hinoki Wood & Green Tea Natural Cat Litter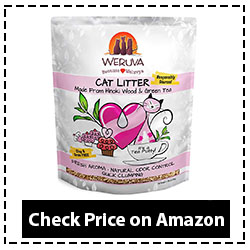 Have you heard of this one yet? Hinoki is actually a Japanese wood that is being used to create this unique cat litter. Well if the recycled newspaper can be used, then this is the next big thing. It is blended with green tea that helps a lot to hide those obvious cat odors. What is great about this litter is that is actually clumps! Not as great as you would hope with clumping clay litter, but it does modestly.
You might need a cat scoop with wider slots for these kinds of pellets. Try using a deep fryer slotted spoon as normal cat scoops can't filter these larger wood pellets so easily. As far as hiding and containing smell, the green tea scent is really strong at killing the cat urine! As for cat poop, you might not consider this perfect for multi-cat homes.
Pros
It does clump cat urine well.
Great odor control for urine too.
100% bio-degradable.
Tea scented.
Cons
Not so easy to scoop with normal scooper.
Cat poop smell is not easily masked.
No budget price.
---
10. Worlds Best Lavender Scented Cat Litter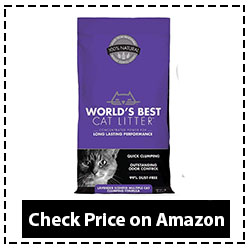 Just like the title says, you might just have found the Best Scented Litter of multiple cat homes. This is a plus for those people who like the smell of lavender likewise. This product is naturally made from corn-based material and thus- dust is not a problem. And though you might have heard of corn-based litter before, this one is top quality. If you are a fan of flushing the waste, this litter is 100% bio-friendly.
It's great for quickly clumping cat urine and does extremely well to hide the smell of cat poop. A little can go a long way for your money so you use less litter outright. While pricey on one end, it hits all the right marks for an enviro-friendly and cat safe.
Pros
Great strong lavender smell.
100% bio-friendly.
Self-clumping works great.
Hides all smells.
Cons
Not budget-friendly.
Corn-based product is not terrible but is often debated by cat owners.
---
How to Choose the Best Cat Litter – Buyer's Guide
Many of us who have owned a cat before like to think we know what is best for them. After owning many feline pets over the years, I can say that you will always learn new things. When it comes to cat litter, you need to think about the needs of your cat first. This page goes into a bit more detail about choosing the best cat litters and what to consider to be a buying guide. We also do our best to help you further than before.
Who Should Buy Cat Litter?
An obvious question but nonetheless needs to be brought up. Anybody who owns a cat, or has kittens, or is going to adopt a cat as a pet. Cat litter is the primary material that goes into a cat box and the cat or kittens can do their toilet business. You, the person reading this article are the ones who will ultimately choose a cat litter.
Things to Consider While Choosing a Cat Litter
There are so many brands of cat litter on the market these days. To make matters more confusing, not all brand names and variations are going to be the best solution for you or your kitty. You'll also need to think about what your cat needs, and by the kind of cat (or cats) you have.
Familiarity
How well do you know your pet, more importantly- your cat? Just like any other pet that you will own, you should know more about your cat than they know you. Learn about health and diet, maintenance and grooming, and proper cat box cleaning and sanitation.
Age
The age of your cat helps determine what kind of cat litter best suits them. As cats age, they will be sticky and finicky about what pleases them best. Consider how often they use the cat box and which kind of cat litter best fits that profile.
Weight
Most of us would never think of weight being a factor in choosing a cat litter, but yes it is! Their dietary needs based on their weight will tell you in general how often the cat will use the box. In general, that ratio will give you a better idea of how much cat litter to buy each month.
Allergy
Both cats and kittens can develop an allergy to all sorts of things. It can be from the fabric softener you use, up through cleaning chemicals under your sink. Even the brands of cat litters that contain chemical additives- might have an allergic effect on your cat.
Odor
You remember the Phoebe song from that old TV show "Friends" called: Smelly Cat'? Well then, Odor is a huge factor you need to think about. Nobody likes the smell of cat urine and poop, it simply stinks! According to your own sensitivity to odors, this is a matter of how much you want to cover those smells. Keep that in mind the next time you search for cat litter for odor control needs.
Automatic cat litter box
The older models weren't so good decades ago, but technology has come a long way since then. The versions they offer today make the cleaning of litter boxes more efficient than ever before. Some of these new models are as space-age as they get. For those who are not around so often will be good candidates for a robot litter box.
Non-clumping litter
The ups and downs of non-clumping litter vary from brand to brand. The whole concept for non-clumping brands is that they are used once and tossed out by the end of the week. Sometimes not entirely, and can be cleaned daily to best last for weeks. Topping off for what has been thrown away. Not all non-clumping granules and litter will be the same. Do your research on which will be the best choice.
Types of Cat Litter
Just in case you've ever been to a Petco or Petsmart, you might have gotten bad pet advice. They don't know your cat, so it's up to you to do your homework. This is where we come in and help suggest the best litters for cats to help you along easier. That doesn't only mean you should stop there, do your own research and read cat product review blogs for yourself.
Materials of Cat Litter
The sheer number of materials that are being used today is pretty impressive. It used to be that absorbent clay granules were stable, but now they have alternatives. Some are polymer gels crystals designed to suck up cat urine faster than clay. There are natural replacements such as wood and paper products that work nicely if you want to go green. Then there are the wheat and corn-based litters that take the enviro-friendly approach. Natural elements such as Walnuts or Pine also work to an advantage for properties they offer in real life.
Cat Litter for Different Cat Sizes
Every kitten up through a grown adult cat will range in size. Depending on these factors, choosing the right size litter granule will be important. Natural paper litter is rather large like the pellet food you give to rabbits. Silica crystals will be smaller than natural clay. Walnut litter will be a course like sand and so on. While kittens might not like stepping on bunny-sized Lincoln logs, your young lanky kitty might just love it. An older aging cat will have sensitive paws, so finer cat sand should be used. Do research on the various litter brands to see what demographic your cat falls into.
Different Features of Cat Litter
What do you prefer your cat litter to do? Should it clump or not, can it be flushed? More or less these waste management questions need to be answered.
Scoopable
In essence- all cat sand and litter can be scoopable. There isn't one that can't. It boils down to the versions of litter that is meant to be clumping or non-clumping. Self-clumping litter makes the removal of cat urine easier to manage and helps mummify cat poop to reduce odors. It cannot be flushed whatsoever.
Flushable
Brands that include flushable are good for the environment too. Natural elements like wheat and corn are the best for this category. Also, consider Pine and Walnut can be flushed. Self-clumping can clog up and plug your pipes in the toilet. It absorbs water real fast and forms rock-like coral in your waste pipes. Don't make that mistake, the plumber you call will not be so kind with your final bill of service.
Non-clumping
This category is reserved for all litter that can be clay-based and natural materials. It can also include some of the newer silica crystals that absorb liquids well but don't clump together. Natural recycled paper, wood all are non-clumping. Even wheat and corn don't clump. Pine and Walnut do not clump either. It all depends if you like to scoop the cat box or not.
Tips on using cat litter
If your cat litter has a tracking problem, this can be a major headache for owners to solve. Some have solved this with specially designed cat mats that trap the granules inside them. Others have a robot vacuum on constant duty in the cat box area. Most of the best tips are solutions you can invent yourself using simple deductions of the problem itself. Google search is the second-best tip.
Frequently Asked Questions
How often do you hear the same question being brought up about cat litter? How do you if it will work with your cat or not? Does it matter if the FAQ you continually hear actually answer your personal questions? When it comes to getting the right answer the FAQ section is not your best bet. The basic level, general idea questions are more to help a novice come to understand what the product does and doesn't.
Conclusion
We hope this gives you a more broad idea when you choose the next brand of cat litter. Not every brand will work well for you, so be prepared to find better upgrades. Over the course of kitty's life- you'll be seeing more than one brand used over the years. Until then, we'll continue to review the latest cat litter products for your benefit.