Taming puppies has its own joy and excitement and everyone loves their puppies and considers them as a part of their family. Being its owner you need to be responsible for petting with care and training the new four-legged family member.
If you don't go well with the idea of cleaning your floors every now and then, puppy pads would be the thing you'd want to have. These would be ideal choices when you would not like to bring the dog outdoors right away.
If you're residing in a building, are at work throughout the day, or have issues with mobility. In such cases, puppy pads are really worth buying.
While appreciating their worthiness we review the top 10 best puppy training pads while bringing their upsides and downsides as well.
1. AmazonBasics Pet Training Pads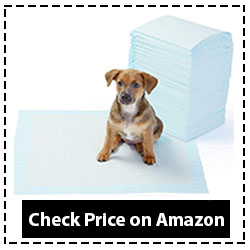 Pet owners who are looking for a reasonable and affordable solution for their pet's daily routine must consider these as these work well without adding on any other issue.
The main feature of dog training pads from AmazonBasics is its protection for five layers: Each layer has its own unique protective feature: the quilted pad is anti-streaming and it won't tear upon becoming wet; polymer core consists of dog attractant; locking layer is helpful for turning urine to gel, and polyethylene plastic bottom is required for prevention of urine from building leakage.
With dog attractant, you can simply teach the puppy to keep urine within the pad boundaries.
Pros
Budget friendliness.
Quick-absorbing top layer.
Usable for little senior dogs as well.
Consists of an attractant and odor neutralizer.
Like a baby diaper, it converts dog urine to gel.
Cons
Isn't ideal for puppies of medium to larger breeds
Inbuilt attractant doesn't work for a lot of puppies
Summary
With Amazon Basics Pet Training Pads you get a quick-absorbent topmost layer for the prevention of urine reaching the puppy's fur and preventing wet tracks from getting scattered around the house. Puppies don't get any issues for getting a proper fit on these training pads, but puppies of larger breeds would maybe require other pads. These training pads' dimensions are 22" x 22" each.
---
2. All Absorb Training Pads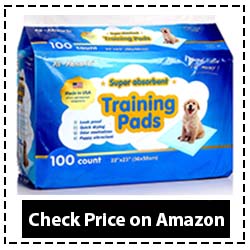 Puppies don't have large bladders and due to this they frequently have to pee. Although the use of a run-down rug would seem like an ideal alternative, puppies don't like the idea of peeing on a stinky and damp rug. Instead of going for the non-absorbent rugs, a better idea would be to go with Super absorbent dog training pads.
These pads have highly enhanced technology for odor control that neutralizes all foul odors. Likewise, it also contains pheromones beckoning the pet for the spot, so the puppy wouldn't miss out on their routine.
Pros
Absorbs really quick.
Instantly converts dog urine to odorless gel.
Quick-drying and smooth surfaces are meant for wet track prevention.
Is affordable.
Can be suited for little aging dogs and cats.
Cons
This requires additional layers for puppies that are older than 4 months.
After a lot of peeing these pads will start smelling.
Whole-day absorption is not possible.
Summary
As is suggested by the name, the product is super absorbent and delivers a smoother touch. The five-layer protection is its best available feature. All-absorb Super Absorbent pads have a holding capacity of five fluid cups. This makes it an economical and convenient option.
---
3. American Kennel Club Pet Training and Puppy Pads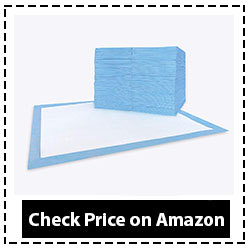 For the housetraining of your beloved pet puppies, Pet Training Pads from American Kennel helps to ease the entire process after providing your little puppy to have a little space. With the freshly scented antibacterial pads in addition to inbuilt attractants, your little pet gets encouraged to go for the pad rather than using the bed, rugs, or other home furniture.
These are good absorbents available with six protection layers in addition to quick-drying gels that help in the elimination of tracking, leaks, and foul odors.
Additionally to training purposes for the house, these pads are like Paw-Fect for old dogs that would require indoor stays for more time periods. Moreover, these are quite simple to clean and all these are available in different counts for suiting your requirements.
Pros
Strong inbuilt pet attractants.
6 layers of highly absorbent antibacterial pads.
Fast-drying gel for helping stopping stacking while locking moisture.
Also usable for line crating carriers and for drying wet paws.
Cons
Not quite thicker compared to others.
Not ideal for heavy and large puppies.
Summary
Overall the American Kennel Puppy pet training pad works well for puppies that aren't quite heavy and these would be among the ideal choices for masking repelling odors as well.
---
4. GOBUDDY Super Absorbent Pet Training Puppy Pads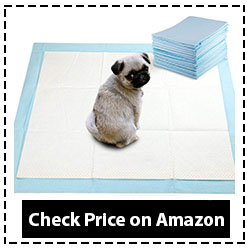 These are puppy pads with pet training that are available in lemon and natural scent in addition to leakage protection of five layers. Go Buddy's design is ideal for use on floors and carpets. These layers consist of tissue paper, waterproof film, durable fabric, absorbent polymer, and fluffy cotton.
The ultra-absorbent polymer is ideal for locking in the moisture and turning the urine quickly to get. All the important layers in the puppet pad remain safe with an important and specific purpose. From odor elimination layer to layer for helping to make the pet routine training quicker than usual, the puppy Go Buddy pad does everything.
Pros
There are five layers that would be leakproof and super absorbent.
The top layer is ideal for resisting tears and scratches for avoiding a mess.
Has polymer for odor-neutralizing.
Has a pet-attracting layer for speeding up potty training.
Cons
Have size issues for higher sized pets.
Are thinner and don't soak quickly.
Summary
These dog pee pads by GoBuddy are ideal for training your little pet puppies before housebreaking, elderly dogs and assisting dogs, use through dogs left alone for longer time periods, and also as alternatives for going potty outdoors for indoor pets. The 5 Layer Design by Go Buddy also has a puppy attractant for speeding up the overall house training.
5. IRIS Neat n Dry Premium Pet Training Pads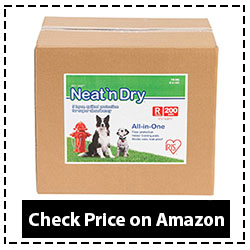 This would be our list's budget-friendly pick and is an ideal selection for little dogs, puppies and is ideal for single use. The pad dimensions are 17.5" x 23.5" ad hold up well with the liquid quart. These are available with a five-layer design ad these have a topmost layer that dries up quickly for avoiding any tracking. Among the five layers, you get a super-absorbent layer through which you are instantly able to change the liquid to gel and also a bottom that is leak-proof and protects your house floors.
These have been preferred by people who look out for puppy potty training pads that are reasonable and deliver great functionality for the price.
Pros
Available with five-layer protection.
Prevention of tracking through the quilted top layer.
Absorbs liquid real quick.
Fits well in IRIS Pad Holder for Pet Training.
Floor Protection with leak proofing.
Cons
Is smaller compared to other available pads
The plastic gets chewed out.
Summary
With the holder training pad in place, pet owners are assured that their puppies won't drag these pets to sheds. This is usable with any puppy pad with the training pad holder as it would fit ideally with dimensions (25.5″ x 18.9″ x 1.75″). Not only the holder works with IRIS pads but it is ideal for others as well.
---
6. Best Pet Supplies Puppy Training Pads for Large Breeds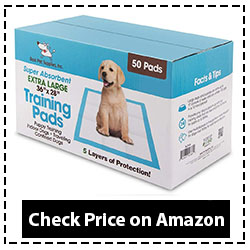 Having trouble getting a clean house indoors while keeping your puppy where you want it to be, the Best Pet Supplies Puppy Training Pads solves all your concerns. The puppy pad is available with a slip-resistant base with a large covering size which makes it quite likable for young and big dog breed puppies. Other than these, the puppy pad is available with 5 layer design making it a leakage-proof pad and it would quickly dry out. Similar to other than the best puppy pad, such a pad would absorb well pretty quick.
Similar to other pads for puppies, this pad from Best Pet Supplies is available with an absorbent feature through which liquid to gel conversion happens instantly. Talking about essential features such as leak proofing and being an absorbent, the puppy pad design is one of the best things.
Pros
Available with anti-slip base.
Extra-large size measuring 36′ x 28″.
Extra thick 5 layer padding ensures zero leakage.
Turns liquid to gel directly.
Ideal for little cats as well.
Diamond printed quilt pattern for evenly spreading urine for quick absorption.
Cons
The pads quickly soak in case of higher-volume liquid.
Summary
These are some of the handiest pads that are helpful in training your puppy and also protecting your floors. Their non-woven fabric helps in drying them quickly. High-quality materials are used for resistance against wear and tear.
---
7. Mednet Direct Ultra Absorbent Pet Training and Puppy Pads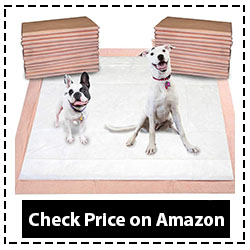 People living inside apartments along with pets would love to have these puppy pads that help in keeping everything in order. The pad can be said as ultra-absorbent and it is designed for serving great for aging and sick dogs.
Moreover, the pad for pet training has been equipped with an attractant for drawing and encouraging your pet for using the pads rather than making your carpet dirty.
The puppy pad is made through polymer technology which is leak-proof and converts urine to gel. Additionally to this, the Mednet Direct Ultra absorbent Pet pad is a medical-grade pad for dogs featuring next-level absorbent. Also, pet owners can get the pad in different sizes.
Pros
Large-sized pads compared to others.
Ultra-fast absorption.
It provides four-layer protection.
Available with inbuilt attractant.
Ideal for all-sized dogs.
The higher liquid holding capacity.
Cons
Pads aren't thick enough for holding urine for a long time.
Summary
When you're looking out for a higher rate of absorbency, these do their task well and get quickly soaked up as well. Regardless of the size and age, these ideally suit different dogs as well. The four-layer material ensures leak proofing for a long time. Efficiently train your puppy with regular pad changes.
---
8. BarkBox Odorless Puppy Pads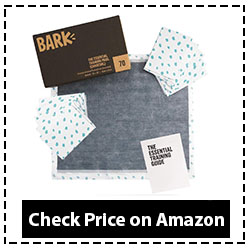 Getting an Ultra-absorbent Puppy pad remains quite tricky but with BarkBox Odorless Puppy Pads you get the best of everything. The dog training pad is known for quickly absorbing the liquid quickly and it has a liquid holding capacity of more than 7 cups. Moreover, the puppy pad is efficiently able to minimize leakage that might happen accidentally.
These pads consist of 6-layered materials that work well for dogs of all ages and sizes. They also provide a satisfaction guarantee.
Sticky tabs are available with this pad to help in letting the pad stick to the floor which makes it stay right in a single place. Additionally, the puppy pad would also be available with odor-neutralizing charcoal while ensuring pet secrecy during excretion. The pad is multipurpose as it works well for puppies as well as senior dogs.
Pros
These are available in different sizes.
6-layer technology for being leak-proof.
Charcoal-based neutralizer for odor control.
Includes a free guide for training.
Holds a lot of liquid.
Cons
Wouldn't hold liquid for a much longer time.
It can leak after crossing a higher capacity than normal.
Summary
Pet owners who are on the search for odorless puppy training should definitely go on with these pads. They'll surely be satisfied with their odor control capacity.
---
9. ASPCA Ultra Absorbent Training Pads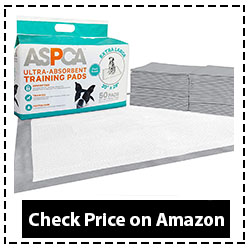 Housetraining for pets requires reliable and quality solutions, and ASPCA's Training Pads are ideal for making the whole process simple by providing great relief for your puppy. These freshly scented antibacterial dog training pads are available with an inbuilt pet attractant helping you by just letting your dog use it quickly rather than going for the bed, carpet, or any other house furniture. These are absorbent with six-layer protections and quick-dry gel further helps in eliminating tracking, leaks, and any type of foul odors.
Pros
Ideal for helping prevention of accidents for old dogs and for housetraining little puppies.
Inbuilt attractant for stopping your pet from defaulting towards couches beds, rugs, and other house areas.
Lock in moisture and stop tracking with quick-dry gel.
Masks urine odors with a fresh scent.
Usable in a car to line carriers and crates for drying wet paws.
Prevent leaks with six-layer spill protection.
Cons
It takes time to soak the liquid.
Summary
Additionally to training in-house for puppies, these pet pads would also go along well with senior dogs that stay indoors for the additional time period. These are quite simple to clean and these are available with three different counts for suiting your requirements.
---
10. Simple Solution Training Puppy Pads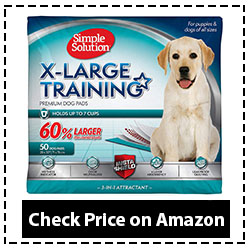 People who are not just concerned about only keeping their house interiors clean but also want to positively affect the environment should choose Simple Solution Training Puppy Pads. Instead of throwing away these training pads in garbage like conventional ones, these can be thrown in the washer, and soon they would be out while being clean and fresh. These are available in a pack of two, and these can be used while washing others, and thus you won't ever run out.
While it would be ideal that training pads would reduce garbage amount that goes to landfills, these are ideal under their merit. These absorb more than 10 times liquid compared to other pads and are leakage resistant making them ideal for the floors.
Pros
These are easily machine washable.
Pads are environment-friendly.
You don't get tracking and leak issues.
Ideal for repeat usage for little and big dog breeds as well.
Cons
Protection is not ideal on the top side for keeping paws dry.
These don't hold urine for long.
Summary
The dimensions for Simple Solution Training Pads are 30 by 32 inches. These washable simple solution pads remain large enough without getting obtrusively huge. These are highly absorbent core and the quick-drying top layer is helpful for avoiding tracking.
---
Conclusion
If you have to bring home a cute puppy and now looking forward to training him, then you must buy a training pad first. We know, it is not an easy task to buy the best puppy training pad. So, in order to make your job easier, we have reviewed some of the best products available in the market above. You can choose any of them as per your need and budget. Happy shopping!
Best Training Pads for Puppies – Buyer's Guide
There is no doubt in saying that housetraining a dog is one of the most difficult things for a dog owner. But along with being difficult, it is also a non-negotiable thing that every dog owner has to do. So if you want to make the dog housetraining process a little easy, then investing in training pads for puppies is the best thing you should do. The only problem is that there are many options available in the market and it can be confusing to choose the right one.
So if you are thinking to buy training pads for your puppy, then this training pads buyer's guide 2021 is very helpful for you. In this guide, you will get to know about all the things that you should keep in mind while buying dog training pads. So if this sounds compelling, then stick to this article. Now without wasting any time, let's get started.
Types of Puppy Training Pads
The first thing you have to do is deciding what type of training pads would be better for your dog. There are two types of dog training pads available, washable and disposable. Both come with some advantages and disadvantages, you should choose as per your needs. For example- what is your budget, convenience, and how much time you are willing to invest in training your dog. Friendly reminder: Although dog pee pads and disposable underpads are very similar, do not make a mistake when buying.
Analyzing The Absorbency
Before buying a dog training pad, it is very important to check its absorbency because there is no point in buying training pads that will get damaged within a few days of usage. It will not only waste your money but it will also fail the main purpose of getting a dog training pad. That's why it is recommended to invest your money in a good quality training pad from a reputed company. Make sure you buy a pad that has good holding and waste absorbing capability.
Choose The Right Size For Your Dog
If you want to keep your house cleaner and maintain proper hygiene, then you should give your dog proper potty training. Some people think if the is dog is grown up, then he will not need potty training, but that not correct at all. Be it small, medium, or large, once in their life, every dog needs to be potty trained. This is the reason why searching and selecting the right-sized dog training pad is very important. If you don't pay proper attention in selecting the right size, then chances are you will end getting either a too-small training pad or maybe an extra-large one. This ignorance will not only waste your money but it will also hamper the training.
Minimization Of Smell
Another important thing you should take care of is choosing a training pad that has smell-absorbing capabilities. Just imagine, if some of your friends come over without telling you and your home is filled with unbearable stinking air. What kind of impression it will make. Definitely, your friends will always hesitate in coming to your place. However, you won't get pads with this feature easily but still if you have odor issues, then you should keep looking for it. You can ask your friends who own dogs if they know any store.
Ability To Stay Fixed In Place
As mentioned above that there are many training pads available in the market but you should always remember that not every pad is created equal, some are better than others. So if you don't want that dirty training pad to come in your way, then look for pads that are designed to stay in a fixed place. Otherwise, it will make your entire room dirty and increase the chances of bacterial infections.
Budget
Well after discussing all the fundamental factors that you should take care of, it's time to talk about another important point of this dog training pad buying guide, which is budgeting. If you want to get the best product at a budget-friendly cost, then you should research it properly. Make sure to look for brands that have been in the business for a long time as this will ensure that you are getting the genuine product. After selecting some companies, you should compare the prices of their products and choose one that is suitable for your dog and fits your budget.
1. Don't Get Angry
One of the most important things to train your dog better is keeping patience. Don't yell at your dog if he does not follow your commands. It will only make the situation worse. Remember that dog training is a time-consuming process and your dog will take some time to understand your commands properly.
2. Keep Your Dog In A Separate Room
If you have to go somewhere and there is no one in the house, then you should set up his alone room and cover the entire floor with the pads. Do this for some days and keep removing pads slowly. The main motive of this strategy is to wean your dog off of each training pad until the room has only one pad left.
3. Supervise Your Dog
Proper supervision is very important to keep your dog secure. You should take your dog to the training pad regularly and watch for him to go by itself. If he goes there, then reward him. Continue doing this until it becomes his habit.
Summary
So these were some of the main points that you have to keep in mind while choosing puppy training pads. Some people say training pads are not beneficial and do not provide any value but that's not true at all. If you look at the wider picture, then training pads are helpful for both pets and their dog owners. For dogs, they provide a private zone to relieve themselves and it makes cleaning very easy for the dog owners. Hope this article will clear some of your queries and give you some helpful information.